El Paso Tax Preparation – Individual & Business Taxes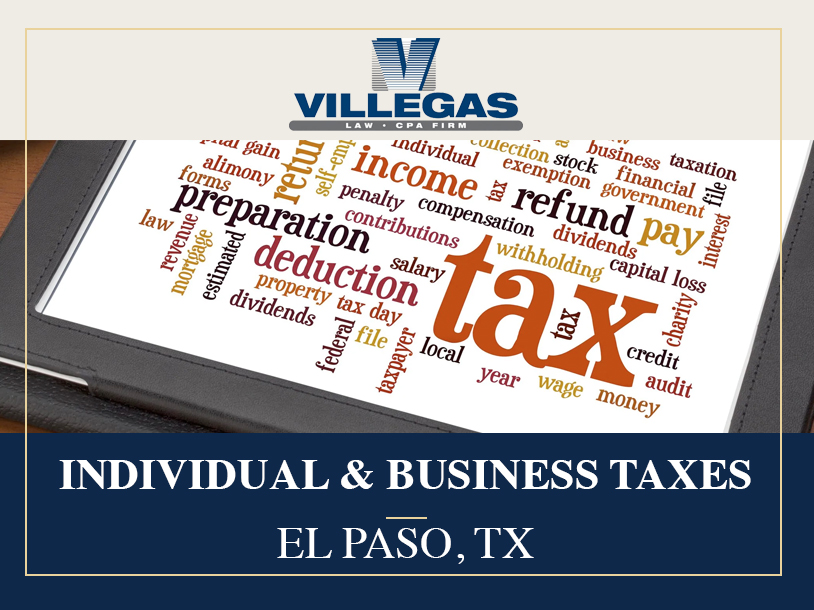 Our certified and professional tax preparers make tax time easy with tax preparation services in in El Paso. You do not need to do it all while filling out and submitting tax records may be a hassle. Villegas CPA Firm helps fill both business and individual taxes in El Paso, TX.

Maximizing Tax Deductions
Preventing over/under payment of taxation, and making the most from tax year, necessitates use of deductions. Our El Paso tax preparers help with compliance while retaining the money in your pocket. We can assist business owners make sense of deductions for business expenditures health care, self-employment, and setup. Our accounting team may ensure taxes are filing based on dates that are recurring and periodic, for example what's needed together with payroll taxes.
We can help you through deductions, if needed, for reductions, charitable contributions, education credits, and tax deductions for families and tax payers.
Electronic Tax Filing and Advanced Tax Preparation Software
Your taxes documents to guarantee more speedy receipt of your tax records. We use professional tax applications double check and to prepare your tax return. Our bookkeeping applications permits us to offer our tax prep customers with services that are reliable. With our assistance, you can make certain personal tax return or your enterprise will be submitted with the intricacies of the tax code, with precision, and in compliance in time.
Contact our Office Now!
Let our experienced tax preparers at Villegas CPA Firm El Paso, TX assist you.
At the Villegas CPA Firm, PLLC, we're committed to client satisfaction and are prepared to go the extra mile to earn your business and your trust. For more information about our tax and bookkeeping services or to schedule a consultation, call us today at (915) 412-6800.